Obaseki said this on Saturday, June 20, shortly after he was screened for the June 25 governorship primary election of the PDP.
The governor announced his defection from the APC to the PDP on Friday, June 19, 2020, days after he was disqualified from participating in the APC's governorship primary due to discrepancies in his credentials.
Speaking on his defection on Saturday, Obaseki said he has served as an APC governor for four years and there's has never been any ideological difference between his party and new party.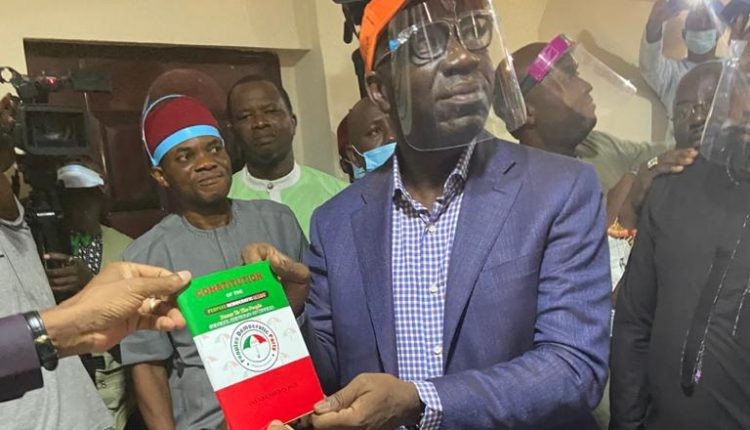 Gov. Godwin Obaseki of Edo State left the APC for the PDP on Friday, June 19, 2020. (Twitter/GovWike)

He said as a governor, his focus is to bring development and get the people to enjoy the dividend of democracy.
He said, "My experience is that having served four years as a governor, I don't see that ideological divide. It doesn't exist. I think the focus for me is development.
"Whether you are a conservative or a progressive, it is expected that the outcome should be development.
"And unfortunately, I got a bit confused in the APC. At some point, I was being accused of not sharing the money.
"When we were campaigning against PDP, we said that the problem there was that they were sharing the money. So for me, it cannot be about ideology.
"At this point in time, it is important that I will provide strong and correct leadership, provide a direction for the country and for our people, provide the basic amenities that they need — education, health care, good infrastructure.
"These are the things that our people are yearning for. These are the things that we are doing in Edo State today.
"So as a progressive or as a conservative, my ideology is about the people: getting the people to enjoy the benefits of democracy."
With Obaseki's defection, the number of states being controlled by the PDP has now increased to 16 as the entire six states in the South-South region are now under the control of the opposition party.