The team of police sent to stop Ajayi also prevented him from leaving the Government House with official vehicles.
In a video that surfaced on social media on Sunday morning, the deputy governor and his aides were seen arguing with the security personnel blocking their exit from the Government House.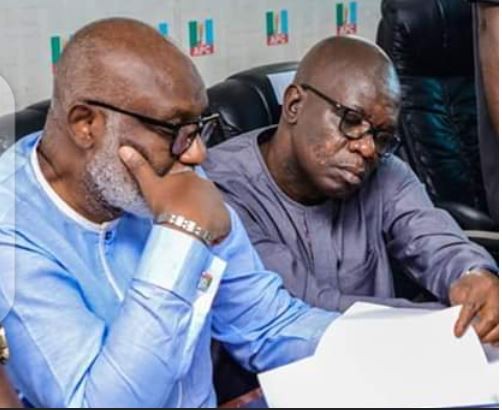 Governor Rotimi Akeredolu and hus Deputy, Agboola Ajayi (SaharaReporters)

In the video, the police commissioner, Bolaji Salami was heard to have said; "We are not saying you should not go out. Since you are defecting, even your letter was brought to me in my office this evening that you are doing it (decamping) on Monday.
"What government is saying is that you cannot go out with official vehicles. This is politics, I am not saying it is right. This is Government House. The Governor is the one talking, give me a few minutes, let me talk to my boss."
But Ajayi replied, saying what happened in 1983 in Ondo state should not be allowed to happen again.
According to TheNation, the deputy governor had wanted to leave the Government House with the vehicles, saying he no longer feel safe in the premises.
But the police on Sunday stopped him, saying they had orders from above not to allow him to leave with the vehicles.
It was also reported that Ajayi wanted to leave with the vehicle ahead of his anticipated defection to the Peoples Democratic Party (PDP).
A media aide to the Deputy Governor, Allen Sowore, who spoke to Sahara Reporters said the police prevented Ajayi from packing his personal belongings.
Sowore said, "We could not leave the Government House for several hours yesterday as they refused the deputy governor to pack his personal belongings.
"At a time, the deputy governor had to ask the position of the Commissioner of Police in this matter because the way he acted was just too low of him as a public officer."
The relationship between Akeredolu and his Ajayi reportedly broke down when the deputy governor began boycotting all activities of the state government including that of the All Progressives Congress in the state.