The primary election has been embroiled in plenty of controversy after Edo Governor Godwin Obaseki was disqualified from partaking in the exercise.
Obaseki has since switched camps to the People's Democratic Party (PDP) in a bid to realise his re-election ambition.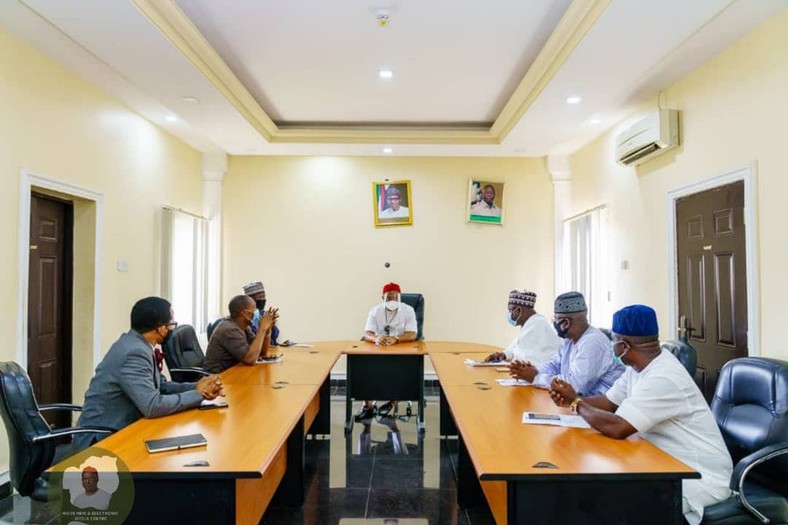 APC Edo primary election committee (APC)

On the eve of the primary election, Chairman of the Nigerians in Diaspora Commission (NiDCOM) and former member of the House of Representatives, Abike Dabiri-Erewa, called out her political party, the APC, for not including a woman in its Edo election committee.
"Na wa o . APC. Not a single woman ? Haba !!!!!," she tweeted.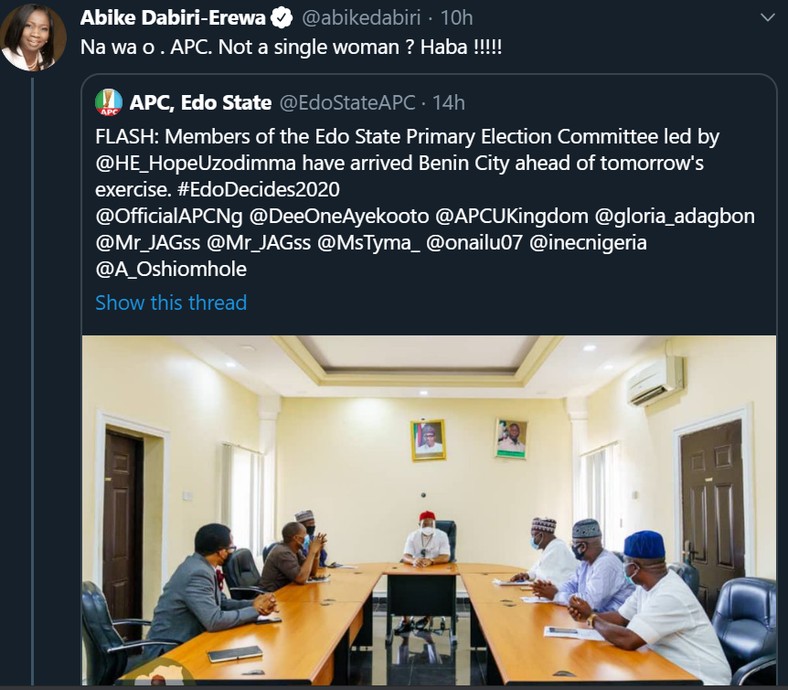 Abike Dabiri's tweet

Was Dabiri-Erewa right to say there is not a single woman on the committee? Not quite.
Hajia Amina Lantana Muhammed is a woman and she is a member of the committee.
The full list of committee members unveiled by the party's National Working Committee (NWC) on Wednesday, June 17, 2020 are as follows:
1.   Governor of Imo State, Sen. Hope Uzodinma – Chairman
2.   Sen. Ajibola Bashiru – Secretary
3.   Alh. Abdullahi Abass
4.   Hon. Ibrahim Sabo
5.   Hon. Ocho Obioma
6.   Hajia Amina Lantana Muhammed
7.   Hon. Gbenga Elegbeleye
*Primary Election Appeal*
1.   Prof. Mustapha Bello – Chairman
2.   Dr. Kayode Ajulo – Secretary
3.   Hon. Umar Ahmed
4.   Nasiru Ibrahim Junju
5.   Hon. Rasaq Mahmud Bamu
Dabiri-Erewa arrived at her conclusion after taking a look at one picture.
Mrs. Muhammed may have taken a walk, may have gone to the restroom, may have missed that sitting or may have called in sick when that picture was taken.
There are other pictures, like the one below, where Muhammed partakes as the committee deliberates.
The argument Dabiri-Erewa could have put forward is that there are not enough women in the 12-member committee. Which is a valid case to make.
However, to say that not a single woman sits on the APC Edo primary election committee is incorrect.