Tinubu disclosed this in a statement on Saturday, June 27, 2020, two days after his party's National Executive Committee dissolved Adams Oshiomhole-led National Working Committee (NWC).
In the opinions of many Nigerians, the dissolution of the party's NWC dealt a blow to the perceived presidential ambition of the party leader because of his closeness to Oshiomhole, the former chairman of the party.
But the former Governor of Lagos State in the statement dismissed the rumoured presidential ambition, saying at this moment, he's more worried for Nigeria about the spread of coronavirus and its economic fallout. Below is Tinubu's full statement.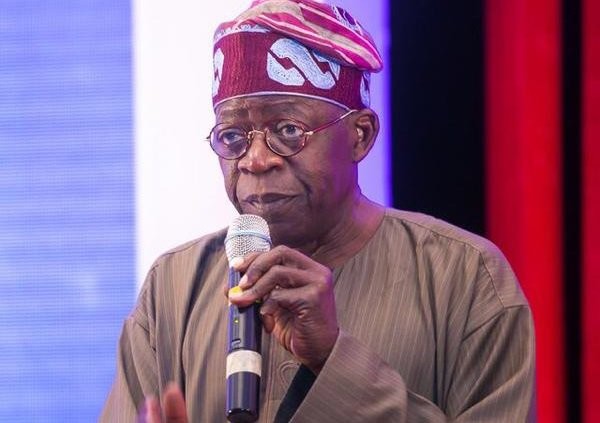 Asiwaju Bola Ahmed Tinubu, APC National Leader, (TheNation)

BECOMING THE PARTY WE WERE INTENDED TO BE
I wish to begin my remarks by commending members of the National Working Committee. Under their collective stewardship, the party earned great and important victories, not least the vital second mandate handed to President Buhari. President Buhari's victory, and the overall electoral success of APC speak highly of them. Our task as a party is to build upon the progress thus made so that both nation and party may advance to their better future.
Yet, we must acknowledge that something important has gone off track. For some months we have experienced growing disagreement within the leadership of the party. This unfortunate competition had grown so intense as to impair the performance of the NWC, thus undermining the internal cohesion and discipline vital to success.
Some people have gone so far as to predict the total disintegration of our party. Most such dire predictions were from critics whose forecasts said more about their ill will than they revealed about our party's objective condition. Predictions of the APC's imminent demise are premature and mostly mean-spirited. However, an honest person must admit the party had entered a space where it had no good reason to be.
The trouble is not that we would forfeit our collective existence but whether we were in danger of losing our collective purpose. In some ways, this possibility is of greater concern. A political party that has lost sight of the reason for its existence becomes but the vehicle of blind and clashing ambitions. This is not what drove the APC's creation.
Those who believe Nigeria can be forged into a better nation and deserves good governance must harken back to the establishment of our party. Those who were there and contributed the most to the party's genesis embraced a common vision. Not only did we believe the venal, purblind PDP was leading the nation into a pit, we sincerely held a common vision of progressive good governance. This was the overriding reason for the APC.
Those most intimately involved in founding the party remain faithful to this benign, timely assignment. Sadly, many members have lost their balance. Their personal ambition apparently came to greatly outweigh the obvious national imperatives.
Even in the best of times, Nigeria is beset by myriad challenges. Poverty and economic inequality, insecurity, lack of infrastructure are longstanding obstacles that have blocked our access to national greatness for too long.
Through no fault of our own, we now live in a moment of heightened difficulty. We did not ask for COVID-19 but it has found us. We must deal with it and navigate its rude economic consequences. At the same time we must grapple with the violent insecurity caused by increasingly desperate terrorists and criminals. People need concrete help from us. We must focus on building roads and creating jobs. For the average man, watching politicians wrestle for position is a poor substitute to seeing politicians working for the benefit of all.
Yet, such intramural fighting has come to occupy the attention of many high ranking party officials and members.
The National Working Committee, itself, became riven by unnecessary conflict. Those who disagreed with one another stopped trying to find common ground. Attempts were made to use the power of executive authority to bury each other. I must be blunt here. This is the behaviour of a fight club not the culture of a progressive political party.
Some members went against their chairman in a bid to forcefully oust him. In hindsight, his fence-mending attempts were perhaps too little too late. I believed and continue to believe that Comrade Oshiomhole tried his best. Mistakes were made and he must own them. Yet, we must remember also that he was an able and enthusiastic campaigner during the 2019 election. He is a man of considerable ability as are the rest of you who constituted the NWC.