The minister was last week involved in a war of words with a Joint Committee on Labour and Employment when he appeared before the lawmakers who questioned his influence on the project, including the alleged exclusion of the National Directorate of Employment (NDE) expected to implement recruitment for the programme for which N52 billion has been budgeted.
He was part of a delegation led by the Minister of Labour, Chris Ngige, who apologised for the bitter exchange while paying a courtesy visit to the Senate President, Ahmad Lawan, on Tuesday, July 7, 2020.
During the meeting, Lawan declared all previous actions taken by Keyamo as 'null and void' and told Ngige to work with lawmakers to start afresh.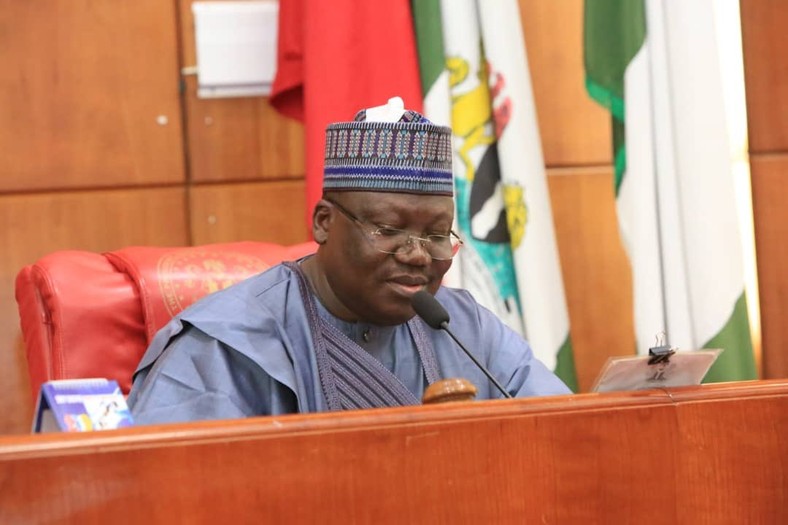 Senate President, Ahmad Lawan, insists Keyamo's ministry must restart its processes for the programme from scratch [Twitter/@DrAhmadLawan]
In a statement released on Tuesday, Keyamo said the Joint Committee also directed him to remove himself from the preparation and execution of the programme.
The committee also directed the DG of the NDE, Nasiru Ladan, to report his plans directly to the National Assembly next week for scrutiny and approval.
However, the minister argued that the lawmakers' directives were illegal as they contradict the provisions of the NDE Act that empowers him as chairperson of the agency's board, as supervising minister.
He said the agency's board is mandated by law to comply with directives from him, and not the National Assembly, and that only he has the sole prerogative to constitute committees for the agency.
He added that President Muhammadu Buhari has already issued public directives that he's the one charged with overseeing all the activities of the NDE, as well as the supervision of the preparation and execution of the programme.
Keyamo accused the National Assembly of trying to sidestep provisions of the laws it made, as well as presidential directives, in an attempt to get him out of the way for the lawmakers to take over.
He said, "I regret to say I am not bound by such a patently illegal and unconstitutional resolution by the National Assembly and I am only bound by the provisions of the law and the Constitution that all public officers swore on oath to uphold."
Last week, Keyamo alleged that politicians were trying to hijack the recruitment process by trying to roll over him.
His back-and-forth with the legislature has cast a cloud over the States' Selection Committees he inaugurated last week.
The committees are responsible for identifying the public works to be executed in each LGA, and will also identify and recruit those to be engaged under the programme.
Keyamo told them last week to complete the selection processes within three weeks.
Beneficiaries of the programme, expected to run for three months between October and December, will be paid N20,000 per month.
They will be expected to perform tasks in roads rehabilitation, social housing construction, urban and rural sanitation, and other critical services.